Having a straight, white, healthy-looking smile is a goal many people hope to achieve.
If you're not proud of your smile, you may want to consider a consultation with our skilled cosmetic dentist.
Teeth often grow in crooked, don't have enough space, or darken with certain food and drinks. Our skilled cosmetic dentist in St. Augustine provides various services to help you achieve a smile you can be proud to show off.
Get the Smile You've Always Wanted!
We Can Improve Imperfections or Blemishes, Including:
Rough Spots
Chipped or Broken Teeth
Mismatched Teeth
Discolored and Stained Teeth
Gaps Between Teeth
Gummy Smile
Missing, Crooked or Overcrowded Teeth
Metal Fillings We Want Your Whole Family to Have a Healthy Smile!
Contact Us Today for Appointment
Not Sure How to Achieve the Smile of Your Dreams?
The team at Silver Forest Dental is well-known for their ability to work magic on any mouth. Whether you're worried about covering up stains, missing teeth, or want to fill the gaps, they can find a solution that works for you.
Our dentist would love to meet with you to learn about your goals for your smile. We'll work with you to build a personalized plan that meets your unique needs.
Dental Implants
Experts consider dental implants the gold standard tooth replacement option because they are as stable as natural teeth. An implant restores both the crown, or the visible part of a tooth, and the root. While no dental restoration can completely simulate a living tooth, implants are the closest to the real thing.
Dental Veneers
Dental veneers are a quick way to a beautiful smile for people with severely discolored, chipped, or misshapen teeth. Veneers are thin shells of porcelain or composite resin that are custom made to fit over your existing teeth and then permanently bonded to the original tooth enamel. Veneers can perfect your smile while still providing a natural look.
Invisalign®
Invisalign aligners are the clear alternative to metal braces for adults and teens. The Invisalign system uses clear aligners that gradually move teeth into their proper positions, resulting in a straighter, healthier smile. From the first step to the last, our dentist are with you through your treatment plan.
Dental Crowns and Bridges
Porcelain crowns preserve your natural tooth's structure by replacing the part above the gum line. For multiple missing neighboring teeth, a dental bridge is a durable solution for tooth replacement. We offer a wide range of materials to suit your preference and comfort needs. Let our highly skilled dentist restores your beautiful smile with dental crowns and bridges.
Teeth Whitening
If you have ever wished for a whiter and brighter smile, teeth whitening might be for you. Teeth whitening is a simple treatment that involves the application of whitening gel to your teeth. The gel lightens the appearance of stains, discolorations, and yellowing of the tooth enamel. Teeth whitening is an excellent way to enhance and rejuvenate your overall appearance.
Smile Makeover
A smile makeover is a comprehensive treatment plan that may involve multiple cosmetic and restorative treatments. Focusing on both the aesthetic appearance of your smile along with your oral health, a full smile makeover improves both the look and function of your teeth under one plan. By combining a series of treatments tailored specifically to your unique needs, we can restore your confidence and give you a healthy smile you're proud to share.
Dental Implants
Dental Veneers
Teeth Whitening We Want Your Whole Family to Have a Healthy Smile!
Contact Us Today for Appointment
Flexible Payment Options For High-Quality Dental Care in St. Augustine
For your convenience, Silver Forest Dental accepts:
We do NOT accept HMO or Medicaid plans.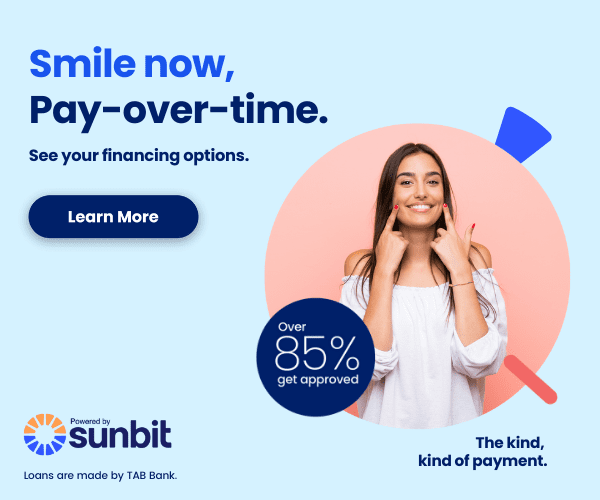 No Insurance? We Have You Covered.
See how simple and affordable better oral health can be!
Adult plans start as low as
Silver Forest Dental can meet a wide range of dental needs from family dentistry, cosmetic dentistry, implants, Invisalign®, orthodontic services, oral surgery, and endodontic services. Patient comfort and care are our top priority, and we go to great lengths to provide a pleasant environment for you.
We accept a wide range of PPO dental insurance plans, cash, check and all major credit cards. We also offer a low-cost in-house discount plan to save you money on your dental care!
Our office is located in the SilverLeaf Commons on Silver Forest Drive, next to Allstate and Anytime Fitness.
Silver Forest Dental serves SilverLeaf, Silver Landing, Mill Creek, World Golf Village, Shearwater, Stillwater And More!
Silver Forest Dental
60 Silver Forest Dr Ste 106
St. Augustine, FL 32092
Same-Day Appointments
Have a dental concern or emergency? We'll be happy to see you the same day.
Hours of Operation
Monday: 8:00am–5:00pm
Tuesday: 8:00am–5:00pm
Wednesday: 8:00am–5:00pm
Thursday: 8:00am–5:00pm
Friday: Closed
Saturday: Closed
Sunday: Closed